Dr. Martin Luther King, Jr. delivering "the fierce urgency of Now" during the I Have a Dream speech taken August 28th, 1963, Washington D.C, United States.
The Fierce Urgency of Now: Modernizing Bereavement Care
Today, armed American troops guard the heart of Washington, D.C., including the steps of the Lincoln Memorial where Dr. Martin Luther King, Jr. delivered one of the most important speeches to our nation in 1963. We must take notice that his words are just as relevant, true and urgent today. Dr. King implored our nation to see the invisible chains of injustice hampering the brotherhood and fellowship of the American dream and democracy.
Yet, a persistent and pervasive disregard for our fellow bereaved Americans continues to plague the soul of our nation as we approach the deaths of 400,000 Americans to COVID-19 and suffer the concurrency of three additional epidemics: suicide, homicide and overdose. These deaths and the life-altering ramifications for surviving loved ones, disproportionately impact black and brown Americans. To avoid a cataclysmic disaster for our families and communities, our nation's leadership must urgently invest in the modernization of bereavement care.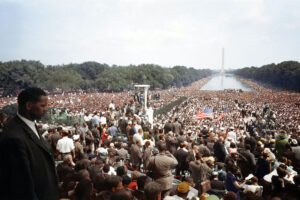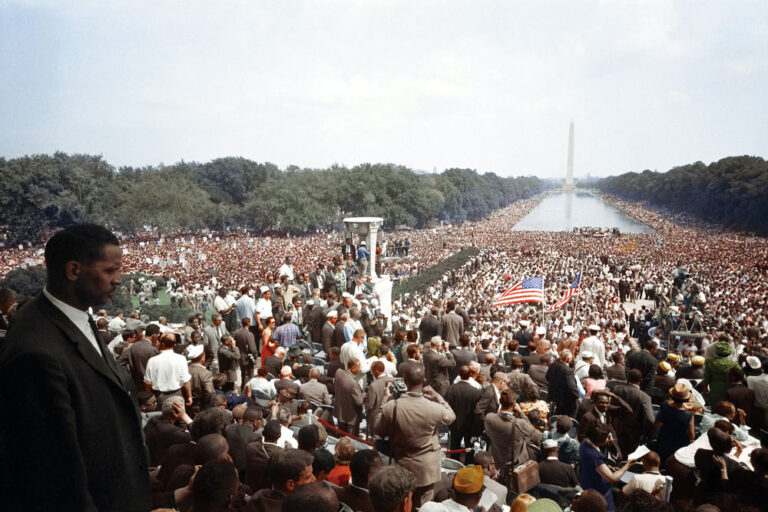 More than twice as many Americans have died from COVID-19 than who attended the "I Have a Dream" speech delivered by Dr. Martin Luther King, Jr.
The death of a loved one is not merely a personal tragedy, but an urgent public health problem fracturing our families, communities and nation. Bereavement itself, like so many other public emergencies, is not equitable. Across the life course, Black Americans are more likely to experience the death of children, spouses, siblings and parents when compared to white Americans. They are three times as likely as white Americans to have two or more family members die by the time they reach the age of 30.
As a result of their losses, family survivors are at risk for poor physical health, social and economic outcomes that follow them and alter their life course. Poor academic performance or dropping out of school, incarceration, substance abuse, violent crime involvement, and premature death are only a handful of the outcomes for the bereft.
By February, experts project 3.6 million Americans will be grieving the death of a loved one due to COVID-19 alone. American Indian and Alaskan Natives represent four percent of Arizona's population, but account for 18 percent of COVID-19 deaths. Black and Latino Americans are 2.8 times as likely to die from COVID-19 when compared to white Americans, while American Indians are 2.6 times as likely to die.
The disparities do not end there, however. Suicide is the second leading cause of death among American Indian/Alaska Natives aged 10 to 34. Of this population, adolescent girls aged 15–19 die at three times the rate of their White counterparts. Further, 54 percent of homicide victims are Black boys or Black men. Since the pandemic began, homicide rates have increased nearly 22 percent in 36 U.S. cities, with some reporting records levels of violence. Among the 700,000 Americans who have died from overdoses, in recent years overdose deaths among Black Americans aged 45–54 have risen.
These are not merely statistics, these are real people with real families living and grieving in our communities.
Now, legions of Americans are bereft facing profound isolation, physical health and social and economic challenges. And, there's little to no policy protections they can count on for support.
When you experience the death of a loved one, you are sent to counseling, but you may lose your job because employers are not required to provide bereavement leave. The death of a loved one is not an eligible event for job protection under the Family Medical Leave Act. When a young child loses a parent, data shows that more than half of bereaved and orphaned children–largely Black and Brown boys — will not access the Social Security benefits to which they are entitled. These children will attain less academically and live in greater poverty which will follow them for the rest of their lives. Why is this acceptable?
Our nation tracks mortality statistics, but not who survives them or what the ramifications are. With nearly $43 billion in research funding this year, bereavement does not make the National Institutes of Health's (NIH) top 300 research priorities.
Death and taxes may be universal, but not for the U.S. government.
Bereavement magnifies what is broken among American communities.
Our nation must act urgently to address the needs of the voiceless, devastated and defeated. Our fellow Americans are not a mere statistic to be overlooked that we fail to act even during the most dire circumstances. It is more convenient to keep our neighbors at arm's length than to invite them into our hearts and homes. Believing that these losses are personal and not a threat to the health, well-being and economic competitiveness of our nation is wrong and misguided.
Dr. King's calling for "the fierce urgency of Now" and "to make good on the promises of democracy" remains as germane and necessary today as it did in 1963. As a nation, we can no longer sit on the sidelines while our fellow Americans suffer in silence. We cannot allow these divides to destabilize our families and communities. The toll of inaction is incalculable.
Changing how the bereaved are treated and support will not come easily. As a nation, we must invest in state-of-the art research to drive evidence-based practices and policies. We must standardize these best practices among our hospitals, first responders, therapists, funeral homes, clergy and schools to support those grieving. We must give professionals the tools, resources and support to carry the heavy burdens and difficult tasks associated with the "worst experience" families face.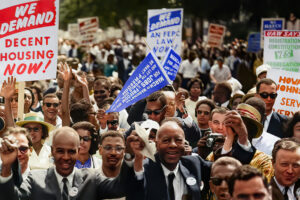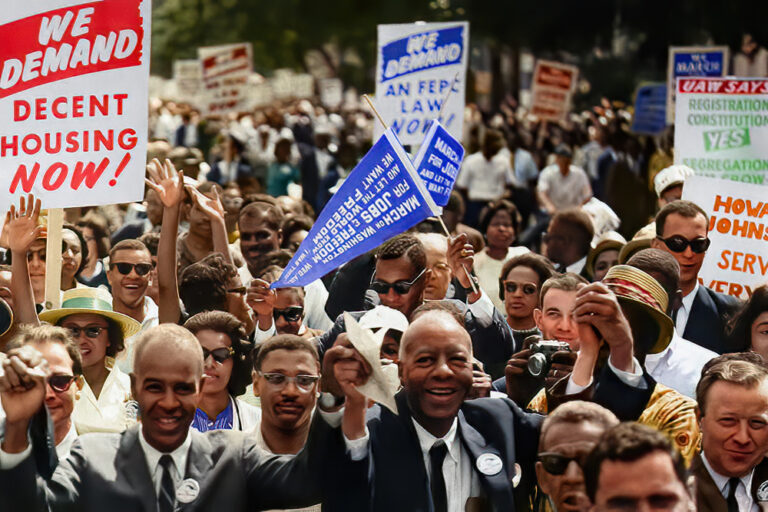 Civil Rights March on Washington, D.C. taken August 28th, 1963.
Last year, Evermore worked with community leaders across the United States to commence federal changes and together, we were successful.
For the first time in our nation's history, the U.S. Congress passed a provision directing key U.S. health agencies to examine and address bereavement care among their priorities. It took an act of Congress–and an unprecedented death toll–to begin the change that is so urgently required.
However, Congress did not act independently. This change was made possible by those mothers, fathers, sisters, brothers, spouses and children who have lost a loved one. Despite their deep pain, they stood up and insisted that their fellow Americans, who will unknowingly follow in their footsteps, deserve better, deserve more. Our nation may be divided, but our work at Evermore is not. Together, we have taken our first step toward a more compassionate, inclusive and respectful society.
We will continue to pull our invisible neighbors into the bright light and warmth of solidarity and back into our hearts and homes. Now more than ever, we must hold tight to our American ideals of solidarity, liberty and justice for all. We are a nation in mourning. We must reconcile these losses and our pain together. They are, after all, a shared human experience.
To the bereaved families of this era, we see you. We will stand with you. You are not invisible or inconvenient to Evermore. We will fight to change our nation's nonchalance and herald a call to action for our country that bereavement care in America is broken. We will work every day to change our nation's passive policies, systems and protocols.
We cannot wait. We embrace the "the fierce urgency of Now" and hope you will do the same.
WRITTEN BY
Evermore
Making the world a more livable place for bereaved families.
Follow