Camp Erin is the largest national bereavement program for kids and teens ages 6 to 17 who are mourning the death of someone close to them. Photo courtesy of Frank McKenna.
---
Evermore is giving focus to younger siblings who have suffered the death of a brother or sister. During the summer months, many surviving siblings are away from the structure and support system that school provides. Being with caring adults and peers who share their experience is extremely important. Bereaved parents are often so devastated by the death of their child, they can't be there for their surviving children in the way they want to and need to be.
To some, Karen Phelps Moyer seems to have immersed herself in sadness and grief. In 2002, Moyer, a mother of eight who lives in southern California, helped found Camp Erin, the largest national bereavement program for kids and teens ages 6 to 17 who are mourning the death of someone close to them.
The free weekend camp serves more than 3,600 campers who attend camp in 53 sessions across 46 locations. There, among others who are mourning, they talk about their loved ones and their grief, and they have some fun too.
It's one of several efforts Moyer is involved in to support people navigating life's hardships. Eluna, the nonprofit that runs the camp, was founded in 2000 by Moyer and former Major League Baseball pitcher Jamie Moyer. Eluna runs a series of programs supporting thousands of children and families annually all at no cost to families, including Camp Mariposa, a program for kids affected by a family member's substance abuse. Moyer has also launched a business to help widows date again.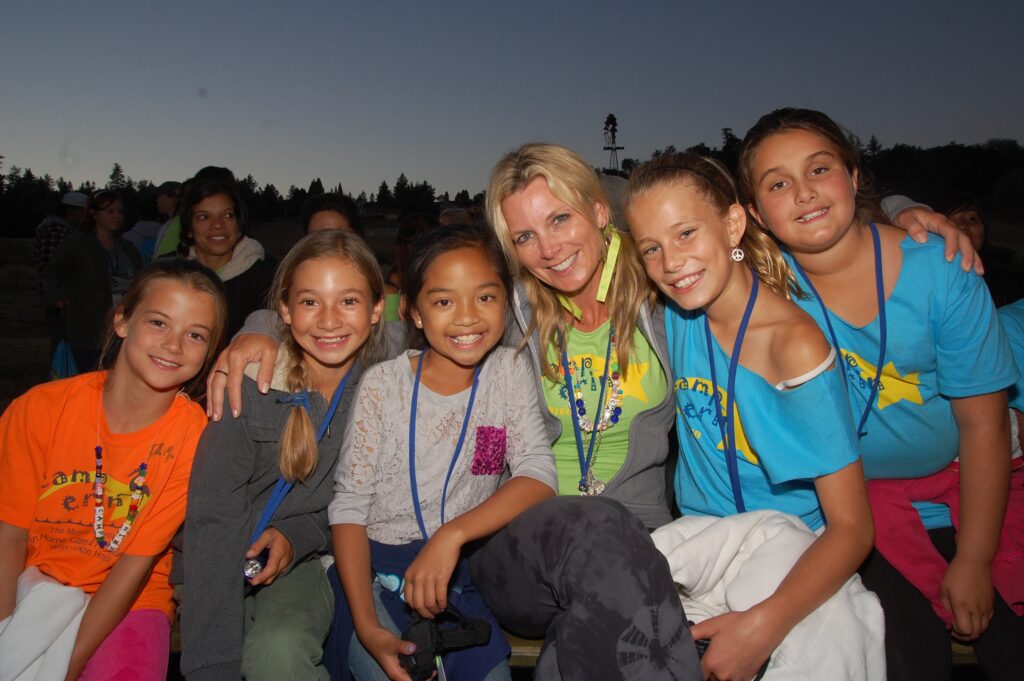 Karen Moyer co-founded Camp Erin — the largest national bereavement program for kids. "I think that no child should grieve alone. I really believe that and live that," Moyer said.
For many, discussions about grief and death aren't easy, but Moyer says she finds hope in her work with those who are struggling.
We checked in with her to learn more about her work with Camp Erin and how grieving children can benefit from attending a grief camp.
Q. How did the foundation come about?
A.I was married to a professional baseball player and through our journey, we were around other people and kids, who were in some type of distress. We met a young woman named Erin through Make-A-Wish and got to be a part of her last two years of her life as she battled cancer. We knew her family. I had known about a [bereavement] camp that was in the area where I grew up in Indiana.
When she was passing, we thought this would be a great way to honor her — to model that camp and name it after her. We were thinking about her sisters as they grieved. So Camp Erin started. We partnered with the hospice that her family had used. And it grew exponentially across the United States and Canada as a model for camp for kids ages 6 to 17 who grieve the loss, sometimes multiple losses, of people close to them.
Q. How do kids experience grieve differently? What's most difficult for them beyond the loss?
A.I find children to be pretty resilient. I find it depends on how they've lost their loved one.
A tragic loss, certainly the suicide losses, are much harder to deal with. We teach them how to memorialize them and how to remember them. We give them an opportunity to say goodbye.
Q. What is it about this issue that has touched you so much that you would want to be around it all the time? Death is a hard thing to talk about for so many.
A.I grew up in a family where my dad's dad was an undertaker. And when I was with my grandfather when he was passing, I was comforted by hospice.
It does take a unique set of personality traits to comfort these kids, but my whole heart is just with them. I feel their sadness and I'm grateful that there is a place for them to go and have fun and they are getting better and they don't even realize it.
Q. What tips do you have for parents who are sending their children to a program like yours?
A.Trust the history of what we've been doing. Trust the incredible model and that we partner with people who are experts. This is what professionals who work in grief do all the time, working in grief, whether it's a bereavement organization or hospice.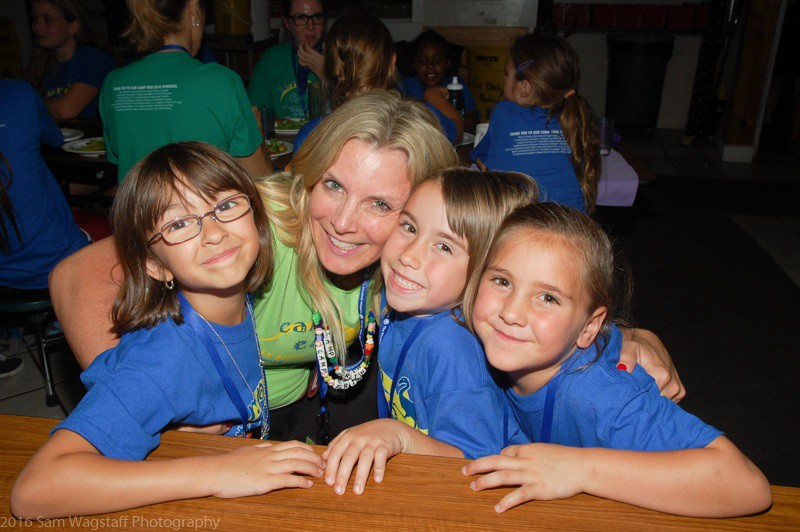 Karen Phelps Moyer and some campers.
And actually, I think, at the end of the day, there is gratitude because I think when parents are grieving the loss and you are just trying to hold it all together, having their child at Camp Erin becomes a moment where maybe parents can focus on themselves. They know their child is being taken care of, and it's helpful to them, but also helpful to parents.
The camp is a silver lining in a bucket of sadness.
Q. Are there any specific stories or moments at a camp that you've experienced that have really stuck with you?
A.Every time I go to camp, I am touched. And my heart is absolutely filled with these kids and their stories and their sadness and their smiles and their laughter that they get in during those 2 1/2 days at camp.
I'm always touched by the littles. They are as young as six at our camp. Typically, on a Friday, they are pretty exhausted because of their week, but then they get to release these emotions and it turns into fun. I'm very touched by the teens. Who in their teens wants to go to a grief camp? But they come, make friends and now with social media, they can stay in touch. It becomes quite a gift. And I marvel at the kids that come as campers and come back as counselors.
Q. That happens often?
A.Yes, it does. And truthfully, it's the kids who kicked and screamed when they came to camp … A lot of them are still continuing to heal from sadness that they had losing a loved one when they were younger, but they are giving back. On so many levels, there are so many beautiful things to witness.
Q. What are your hopes for the future of Camp Erin?
A.I think that no child should grieve alone. I really believe that and live that. My hope and my wish is that there are Camp Erins everywhere.
At the same time, as we figure out how to reach more kids, we must recognize that grief is important to discuss and to support on all levels and to sometimes just be a good listener and just be somebody who gives good hugs. That, in and of itself, can go a long way.