Bea's parents — Rachel and Erin Alder say they are "extraordinarily pleased" by Seattle City Council's unanimous vote for paid bereavement leave and were thankful for the support they received throughout the process.
City employees no longer face impossible choice: to mourn their child or keep your job
This week, the Seattle City Council passed "Bea's Law," which extends paid family care leave benefits to city employees when their child dies. It is possibly the first paid bereavement law in the nation and a model for other forward-thinking elected leaders at all levels to follow.
The city ordinance is named after city employee Rachel Alder's infant daughter Bea, who died in November 2017, only 36 hours after being born. Alder brought the issue to the city's attention after she had to borrow paid time off from co-workers to take time away from work after her daughter died.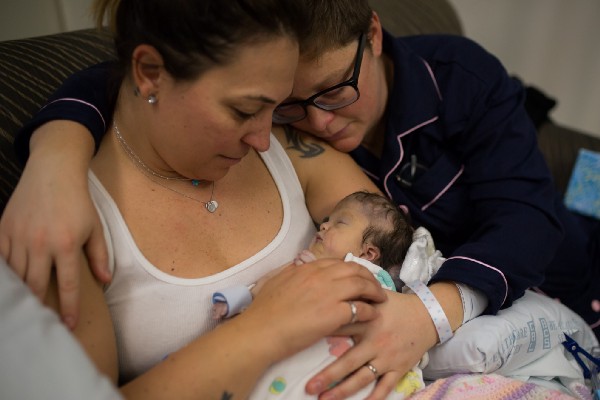 Evermore executive director Joyal Mulheron commended Rachel Alder for her courage and advocacy to honor her daughter Bea and pioneer better support for bereaved parents.
"Bea's parents Rachel and Erin are honoring their daughter in such a powerful way. On behalf of bereaved parents everywhere, I thank them and Seattle's City Council for drafting and passing a landmark law that can be an example for elected leaders across the nation," Mulheron said.
While the federal Family and Medical Leave Act gives eligible employees up to 12 weeks of unpaid leave to care for a new child, recover from a health setback or look after a spouse, child or parent who is ill, it does not include time off for parents to grieve the death of their son or daughter. The death of one's child is a major omission among the list of conditions that qualify a worker for leave.
380,000 grieving families
The number of bereaved parents affected by shortsighted employment policies should create a sense of urgency for elected leaders to act. Each year, more than 380,000 children, from stillbirth to age 54, die, and hundreds of thousands of parents are left to mourn them.
One industry survey found that 69 percent of employers give parents just three days off after the death of their child. And when a parent is mourning after a miscarriage or stillbirth, that number drops to just 62 percent of employers who allow workers to take bereavement leave.
That's hardly enough time for a parent to bury a child, much less seek support for managing an immense life change. And when forced to return to work too soon, it's likely parents won't be in a state-of-mind that will allow them to be productive and focused on the job or in a position to cope long term.
Research shows that grieving parents deal with long-term difficulties, including higher risks for other mental and physical health issues, along with decreased productivity at work and even lower earnings.
Growing momentum
Some organizations and leaders are doing better for grieving parents. In 2017, Facebook extended its bereavement leave to 20 days; so did Mastercard.
Leaders in two states and a city also have taken action.
Illinois' Child Bereavement Leave Act requires employers who have at least 50 employees to provide up to 10 days of unpaid bereavement leave. Employees can use the time to attend the funeral, make arrangements after the death or just grieve.
In Oregon, the state's Family Leave Act requires employers with 25 or more employees to give workers 12 weeks of unpaid bereavement leave.
And Tacoma, Wash., workers earn an hour of paid sick leave for every 40 hours worked. The law specifies bereavement of a family member, including a child, as a qualifying reason to take the leave.
On the national level, there also is a growing movement to expand the Family and Medical Leave Act. In February, the Parental Bereavement Act, originally introduced in 2011, received bipartisan support in the U.S. House and U.S. Senate. The bill would allow grieving parents of children under 18 years to take unpaid leave under FMLA. We'll have more about the two dads who are behind the bill here on Evermore's blog later this month.
Impossible choice
More, of course, must be done to support bereaved parents on the job.
"At Evermore, we regularly hear from parents who are faced with a tough choice: Will they take the time they need to mourn their child and lose their job in the process? Or, will they go right back to work in a vulnerable state without the support needed for long-term coping?," Mulheron said.
Evermore is encouraging readers to contact their elected leaders at federal, state and municipal levels to extend FMLA to bereaved parents and provide paid leave where possible.
Because as Mulheron said: "No grieving parent should ever be forced to make that impossible decision."