In June 2013, during recovery from what was supposed to be a routine heart catheterization to assess his heart condition, Ron Kelly's son's heart failed. Doctors weren't able to revive 16-year-old Jon. Today Ron helps other grieving fathers, particularly those in the workplace.
After struggling with identity after his son's death, Ron Kelly helps other men mourn
*Evermore is dedicating this Father's Day week to bereaved dads who will always be fathers.
R. Glenn "Ron" Kelly's son was supposed to make it.
Jon was born in 1997 with a rare and potentially deadly heart condition, but doctors were optimistic. He'd need medical intervention, including three open heart surgeries before the age of two to rebuild his heart, but, they said, he'd live a full life.
"He had a wonderful childhood," Kelly said. As a teenager, Jonathan picked up golf, and the family moved to a golf course community where he could play all the time.
"The year that he passed, he was in line to be the first freshman to make the high school golf team," said Kelly of his only child. But, in June 2013, during recovery from what was supposed to be a routine heart catheterization to assess how he was doing, Jon's heart failed. Doctors weren't able to revive the 16-year-old.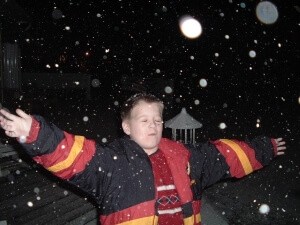 Still a dad?
The death left Kelly and his wife reeling. Kelly, a former Marine and cop, grappled with an identity crisis and tried to quash any emotion. After his son was born, he had walked away from a career serving others to work as an executive in the defense industry and focus on being a father. But, after his son died, he didn't know if he could still call himself a dad.
"I went back to work where I could control things," he said. "I would go back as the number two man in a large company and control my environment and repress my grief in that way. I'd walk by pictures of Jon and avoid looking at them. I was repressing the grief, but I was still wondering, 'Who was I? Was I still a parent?'"
Six months after his son's death, said Kelly, "I think Jon came to me and said, 'How dare you.' He asked, 'Are you still a Marine?' Of course I'm still a Marine. 'Are you still a cop?' Part of being a cop will be in me for all my life."
Then, Kelly said his son asked him, 'How do you think you're not still my father?' It was a good point."
It was a watershed moment for Kelly, who realized that he needed to let himself grieve. But as he looked for healthful ways to mourn his son, he found few resources.
"There was nothing out there for men by men," he said. "I had to strike out on my own. I met some wonderful people in the field who nurtured me on my way. I studied human emotions and why we are the way we are."
As he navigated his grief, he decided to share what he learned with other men by writing a book. And that book, "Sometimes I Cry in the Shower: A Grieving Father's Journey to Wholeness and Healing," launched a new career that's focused on helping men and working with employers to build grief-friendly workplaces.
"It's been a wonderful opportunity to go out and help others heal," he said.
Today, Kelly is the author of four books, including "Grief in the Workplace," "The Griefcase: A Man's Guide to Healing and Moving Forward in Grief," and "Grief Healings 365: Daily Inspirations for Moving Forward in Your New Normal."
Grief in the workplace
In addition to the books, Kelly also travels the country presenting on topics that include grief in the workplace and how men and women grieve differently. As a former executive whose child has died, Kelly said he has a unique perspective on how workplaces can help — or hurt — a bereaved parent.
Before his son's death, for example, his managers would stop by his office each morning to let them know what their plans were for the day.
"When I lost Jon, I came back to work and nobody stopped by my door anymore," he said. "It's a small anecdote alone, but think about what that did for productivity."
Those managers just didn't know what to say, said Kelly. And they weren't trained in advance to know how to interact with Kelly upon his return.
Now, he said, "I'm going around to businesses and civic organizations and advocating the care and feeding of the bereaved once they return to work."
Those efforts don't have to take up a lot of time and money, Kelly said. It can be as simple as sharing, with the employee's approval, details about how their loved one died before they return, so they aren't bombarded with questions from curious co-workers.
It also could include teaching managers to spot signs that an employee might need to take a break from time to time. Giving those employees a little grace, said Kelly, "beats rehiring fees and retraining costs and turnover costs."
Kelly recommends that grieving employees take off their "grief mask," and be honest about the moments when they need a few minutes outside the office to take a walk.
Serving once more
For Kelly, his work, now a full-time job, has helped him in his own grief. But, he said, he's also taking a cue from Jon.
"All those years, as Jon was going through interventional trips to the doctors (for his heart condition), he also voluntarily put himself up for research," Kelly said. "And in his own words, he said, 'I am helping out other children who were born after me with the same condition.' He was serving."
And now Kelly, the Marine and cop, is serving once again.