Earlier this month, Evermore hosted a conversation with Dr. Emily Smith-Greenaway, a grief and bereavement researcher in California and associate professor of sociology and spatial sciences at the University of Southern California, to discuss her research on bereaved people and her work on the COVID-19 bereavement multiplier.
The bereavement multiplier is a tool used to track how many people have been directly impacted by a COVID-19 death. According to research findings from Dr. Smith-Greenaway, on average, for every death due to COVID-19, approximately nine people have been or will be bereaved. With more than 1 million Americans having died of COVID-19 thus far, that leaves approximately more than 9 million people bereft.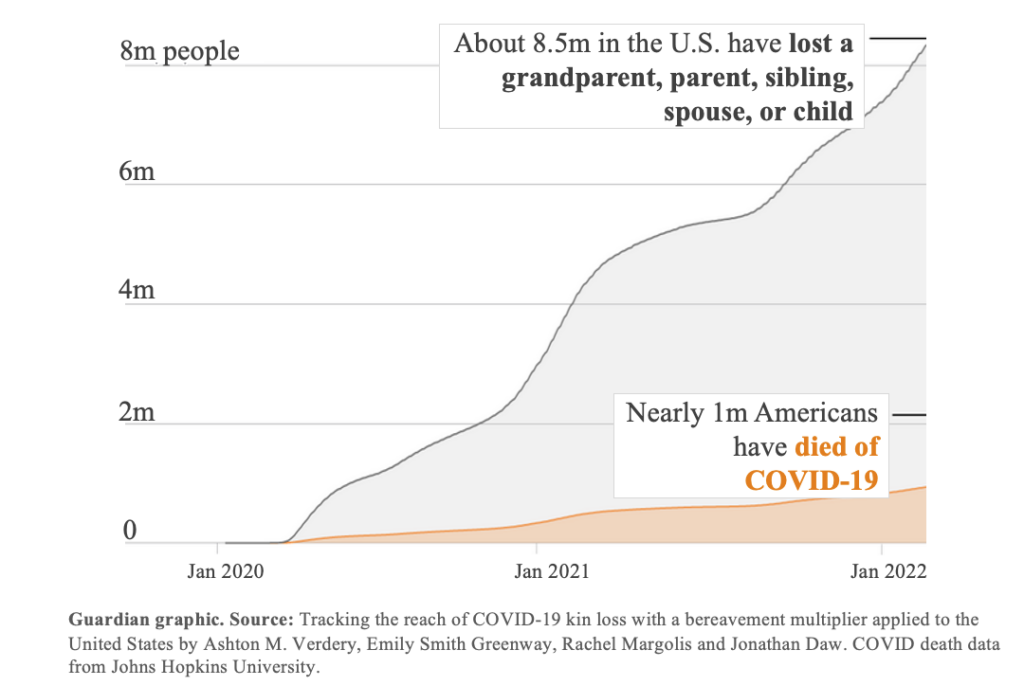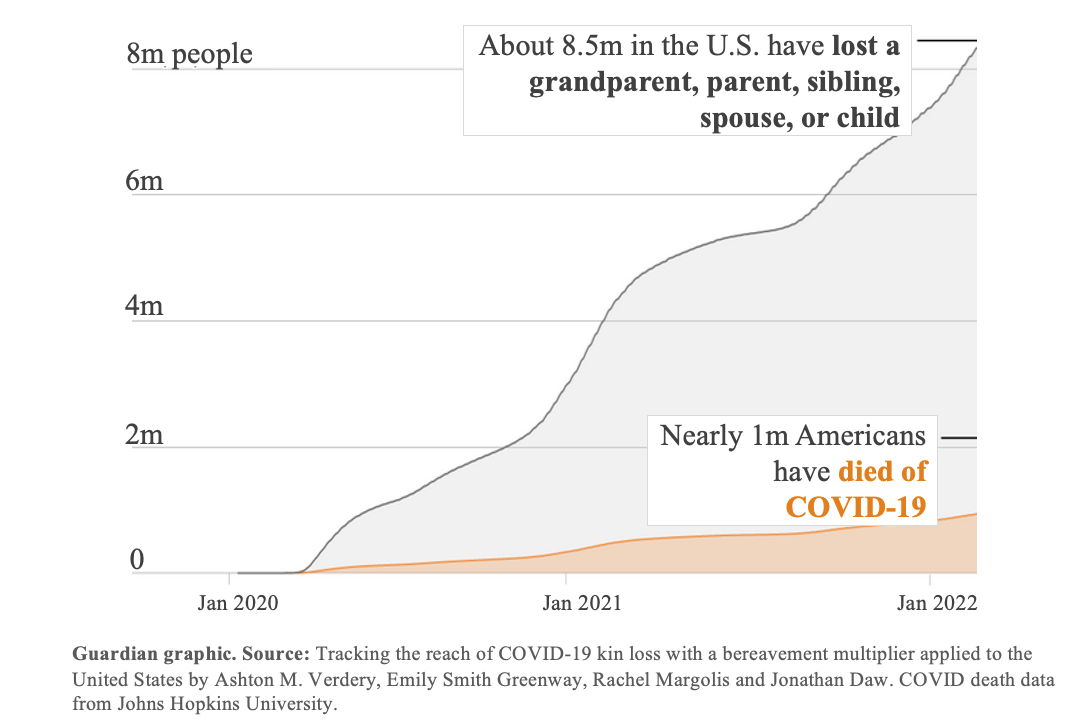 "This multiplier [tool] allows us to really track how many bereavement events there have been in the midst of an ongoing mortality crisis," says Dr. Smith-Greenaway. "This gives us a really different scale of the height of this mortality crisis by emphasizing how many people have been intimately affected by COVID mortality."
While the Centers for Disease Control and Prevention measures deaths in the United States, it doesn't measure how many people are impacted by those deaths. Dr. Smith-Greenaway's multiplier tool therefore offers an important and useful way to begin to understand the scale and impact of bereavement in this country.
"We can absolutely extend this approach to other causes of death," says Smith-Greenaway. "What I think is so useful about that is that I expect there will be inversions sometimes – how some less common causes of death may still have an outsized effect in terms of bereavement. It's a tool we can absolutely use to really get a sense of the lingering effects of certain mortality crises the U.S. is facing beyond COVID."
Dr. Smith-Greenaway's research also examines the ways in which social inequality intersects with mortality and how those disparities affect the experience of survivors, at an international scale.
"Inequality and mortality conditions also mean inequality in access to kin and social support and this really unequal burden of bereavement that we see playing out across the globe," says Dr. Smith-Greenaway. 
Dr. Smith-Greenaway's work found that younger people are disproportionately impacted by COVID-19 deaths. 
"Really early in the pandemic, the narrative was that this mortality shock was disproportionately affecting older adults," says Smith-Greenaway. "We see actually it's younger people who are bearing the brunt of these losses because they're disproportionately losing grandparents and parents."  
In a study that followed a group of young children from birth through adolescence, Dr. Smith-Greenaway found that the death of a maternal grandparent played a significant role in the academic success of young boys. Data showed that boys who lost a grandparent earlier on in life – between the ages of five and nine – are significantly more vulnerable to lowered cognitive skills for reading comprehension and verbal and math ability. 
"This is really striking because developing these skills on time is really important for youths' subsequent academic skills and their subsequent behavioral outcomes and academic outcomes," says Dr. Smith-Greenaway. "Interestingly, we're not finding anything in terms of young girls."
Dr. Smith-Greenaway surmises this disparity is a product of the way we typically socialize boys into muting their grief. This type of socialization could be the direct cause as to why research points to these disadvantages in academic skills. 
According to Dr. Smith-Greenaway, it's the impact of bereavement on boys from historically marginalized communities that are really driving the effects seen in the data. Non-Hispanic Black boys and Hispanic boys showed significant impacts to their verbal, math, and reading abilities after experiencing the death of a grandparent between the ages of five and nine. 
Dr. Smith-Greenaway's work also found that Black and Hispanic boys suffered from more severe depressive systems when compared to their white peers after the death of a grandparent. 
"There's also work emphasizing how racial minority boys, in particular, tend to have this 'suffocated grief,'" says Dr. Smith-Greenaway. "Their grief is viewed as just bad behavior, or acting out, rather than acknowledging that it's just their very normal reaction to a loss."
In a global study on the deaths of children under five, Dr. Smith-Greenaway discovered some monumental disparities, not only in child loss, but also in the impact of those losses on mothers. This study found that 30 to 40 percent of sub-Saharan African mothers between the ages of 20 and 44, have experienced the loss of a child – a number that increases to 50 to 60 percent for women ages 45 to 49. 
Dr. Smith-Greenaway's work highlighted striking inequalities in child loss between women in African countries compared to women in other countries. For this research, Smith-Greenaway looked at demographic and health survey data spanning more than 20 years for mothers of multiple age groups in 20 sub-Saharan African countries.
While many initiatives have focused on the disparities in infant mortality between white and African communities, the disparity is even greater when looking at mortality in children.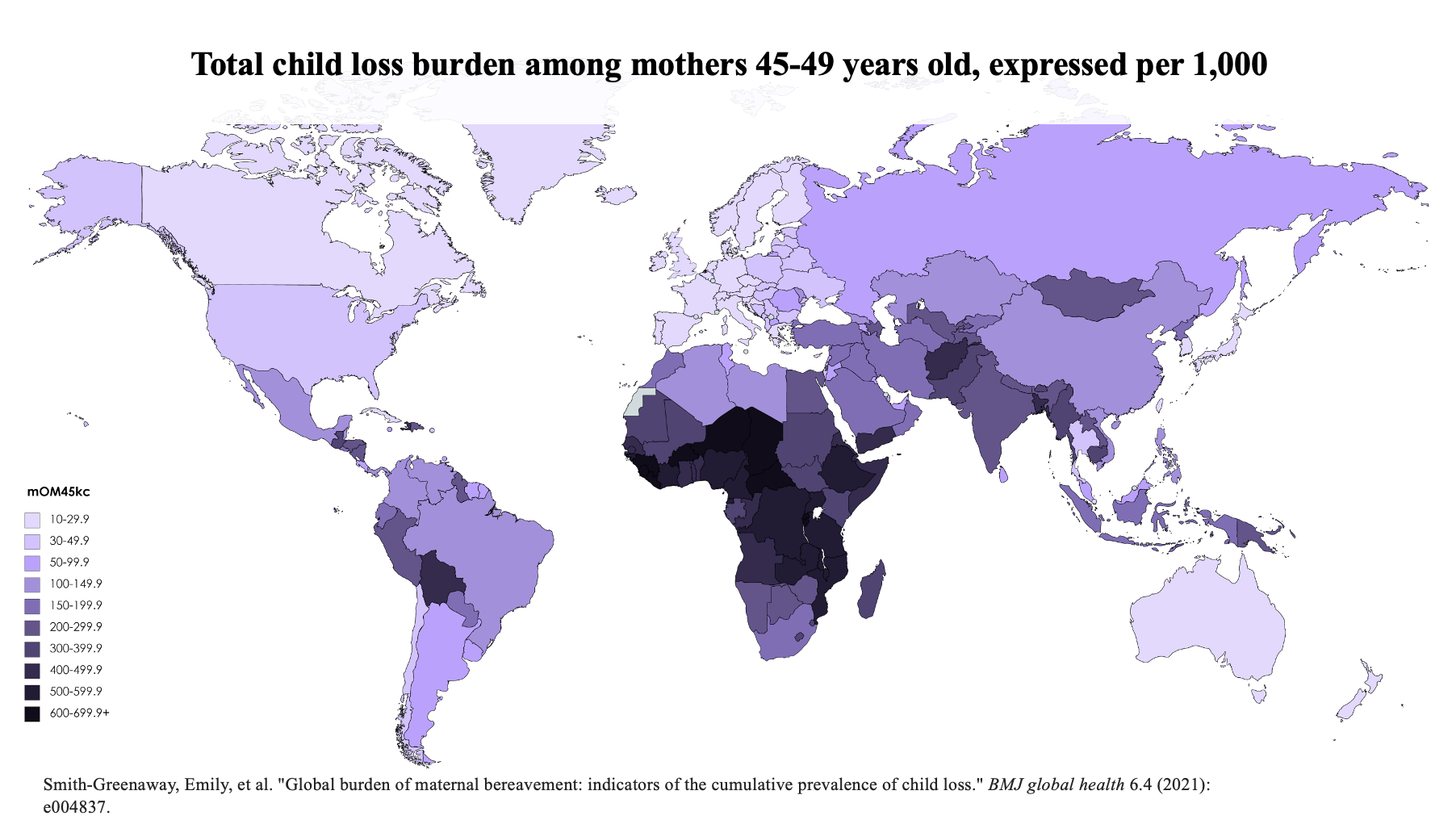 "In some sub-Saharan African countries, it's more common to have witnessed a child die than it is to have witnessed all of your children survive beyond the age of five," says Smith-Greenaway. "This work is trying to attend to the fact that losing a child is this underappreciated dimension of global health inequality that manifests in womens' lives." 
Dr. Smith-Greenaway's work also uncovered yet another trend associated with child mortality – intimate partner violence (IPV). In a 2020 study, Dr. Smith-Greenaway concluded that child loss corresponds with a higher risk of intimate partner violence in a number of sub-Saharan African countries. The increase was found, somewhat surprisingly, not in communities where child death was more common, but in communities where it was both less likely and where there was greater parity in education between genders.
Although there is nothing in the data to explain why this increase in IPV exists, Dr. Smith-Greenaway suspects it could be a result of maternal blame for the death of the child. 
"It suggests that maybe where child loss isn't as expected, there's less of a support system in place for when you do lose a child because it's just a less common experience in the community," says Smith Greenaway. "We do see that that comes with an outsized risk of IPV." 
Here in the US, in 2020, the most recent year data is available, the CDC recorded more than 3.4 million deaths in the United States, the most on record. That leaves more than 30 million people in the U.S. recently bereaved, yet the death of a loved one and its implications most often remain invisible. 
Thanks to research like Dr. Smith-Greenaway's, which you can learn more about here, Americans can begin to understand the global breadth of bereavement, and we can establish an increased awareness of these issues so that families may find support when they need it more than ever. 
This is why, at Evermore, we work every day to raise awareness and develop our nation's bereavement care systems. Our work centers around evidence-driven advocacy for the bereaved children and families because no one should be left to bare knuckle their way through the aftermath alone.  With millions impacted domestically and around the globe, we can – and should – do more to help our friends, families, and communities.