Dear Friends unknown, 
We are joined together by so many things in grief.  Maybe there's a luminous cord connecting us through sleepless hours and hardest times.  The poet Jack Ridl told me years ago, after my father died, "Grief is an ambush. When you're least expecting it, it rises up again…"
Poetry is a close focus on something cared about. Whether you are writing or reading a poem, the poem (if you like and relate to it) brings you into an intimate space of details and affections – linkages and leaps. It's a point of gravity again, stirring the heart. 
Loss can feel numbing – a blur of overwhelm and sorrow, profound regret and insatiable yearnings.  After our son died suddenly, I found myself wishing I could just turn my mind OFF. I felt an entire loss of meaning and gravity. I couldn't write anything but tiny thank you notes for food and flowers for more than two months. 
A child is the central engine of a parent's heart. No matter what age they are, or what the circumstances, the child is the connecting thread to time – past and hoped-for future and always, always, present. What are they doing right now? How are they? Where are they? After his death, I missed the easiness of days, every random memory, and all our humor. All the plans. Everything reminded me of him. When scraps of humor started kicking back in again, it was like an old rusty propeller trying to spin. 
Reading poetry gave my mind something to settle down inside, in even the worst times – a place to land. I had read Edward Hirsch's profoundly moving Gabriel years before and went back to it. I read the astonishing Elegy by Mary Jo Bang, which won the National Book Critic's Circle Award.
I was not terribly attracted to grief and healing books. They have good intentions, but. People will keep writing you, "There are no words" – but there ARE words. There have to be words! We live by words! No, no words will ever fully encompass how sad we are. But there are still words. 
When finally, I felt able to write again in the third month, once again the tiniest things seemed most fortifying. This has always been my watchword in writing – stay tiny. No big ideas, only tiny ones please. Attempting to iron a stack of rumpled clothes and tablecloths one day, I heard the hissing of the steam iron and remembered he had once told me it was his favorite sound of childhood.  So, the first little poem I wrote was called "Hiss." It comforted me even to say the smallest thing in honor of him. One poem led to more.  I also allowed some emails to provoke poems – here is one of those. I'm sending you some love out there.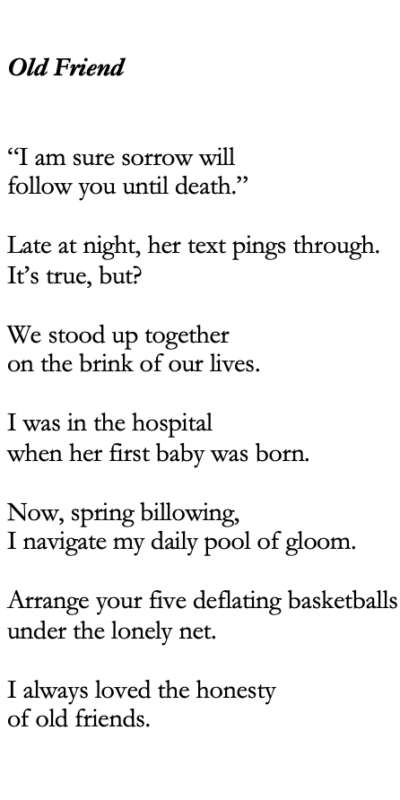 About Naomi Shihab Nye
Naomi Shihab Nye describes herself as a "wandering poet." She has spent more than 40 years traveling the country and the world to lead writing workshops and inspire students of all ages. Born to a Palestinian father and an American mother, she grew up in St. Louis, Jerusalem, and San Antonio. Her awards and honors are numerous — among them are the Lavan Award from the Academy of American Poets, four Pushcart Prizes, the Robert Creeley Prize, and "The Betty Prize" from Poets House. In 2019-2020 she was the editor of the New York Times Magazine poems. She was named the 2019-2021 Young People's Poet Laureate by the Poetry Foundation and, in 2020, awarded the Ivan Sandrof Award for Lifetime Achievement by the National Book Critics Circle. Nye is a Professor of Creative Writing – Poetry at Texas State University. Nye is the author of dozens of poetry books that can be found here.
Read other acclaimed poets reflections on grief