My own loss and the deep grief that accompanies it brought about profound change in the way I experience creativity. Deep loss breaks you down in a way that also cracks you open. There is loss of control and surrender. Tears and sorrow pour out, but light also pours in. I learned to listen to my voice in whispers — my intuition — instead of dismissing it. Instead of trying to craft something that made sense, I listened to thoughts and wrote down what came, almost like transcribing. Then I could always go back and shape things. Writing from a place of intuition and deep vulnerability helped in my healing, and I was also pleasantly surprised to learn that it resonated with others.
I have lost count of how many times poetry has been a life raft for me. Poems can help us to know we are not alone. They can access emotional places that ordinary conversation does not. I believe that the purpose of art is to whisper truths to each other in the dark. There is an intimacy and magic in reading words on a page that move you, that speak to you. That is the gift a poet is giving us with her/his/their careful attention—to let you know you are not alone in the dark.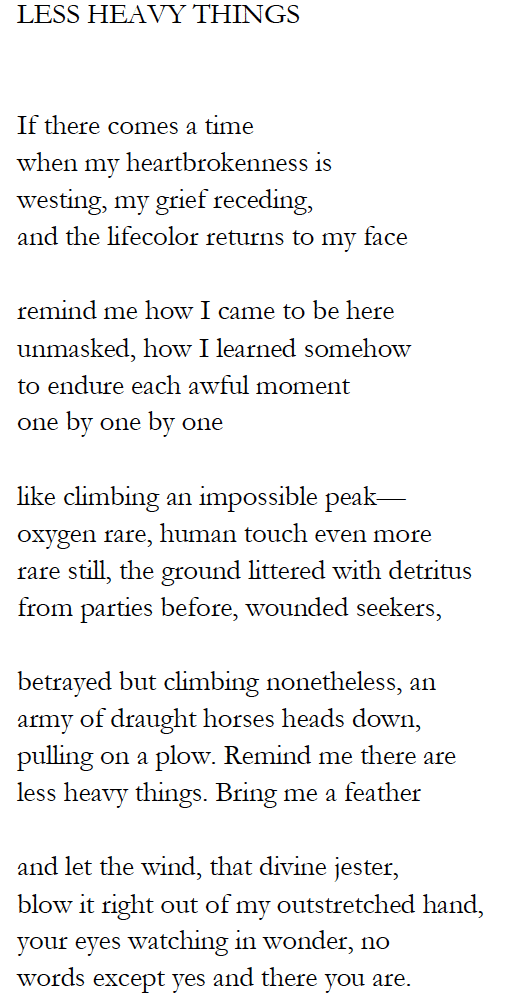 About Beth Wood
Beth Wood is a modern-day troubadour, poet, and believer in the power of word and song. Beth has been writing, performing, and creating for twenty-five years. In addition to releasing fifteen albums, Beth has released three books of poetry, Kazoo Symphonies, Ladder to the Light (2019 finalist for the Oregon Book Award Stafford/Hall award for poetry and 2019 Winner of the Oregon Book Award Readers' Choice Award) and Believe the Bird (Winner of the San Francisco Book Festival Poetry Award). She has been recognized by the prestigious Kerrville New Folk Award, The Sisters Folk Festival Dave Carter Memorial Songwriting Award, the Billboard World Song Contest, The Oregon Book Awards, and many more. Beth lives in Sisters, Oregon, with her rescue dog Hannah and is continuously writing and rewriting her artist's manifesto.
Resources:
Beth Wood website
Kazoo Symphonies, by Beth Wood
Ladder to the Light by Beth Wood, 2019 finalist for the Oregon Book Award Stafford/Hall award for poetry and 2019 Winner of the Oregon Book Award Readers' Choice Award
Believe the Bird by Beth Wood, Winner of the San Francisco Book Festival Poetry Award
Beth Wood's photo was taken by Heaven McArthur
Read other acclaimed poets reflections on grief